Universal Light-Cured Radiopaque Injectable Composite
An injectable high-strength ultra-fine particle composite with ideal viscosity, handling, and adaptation characteristics that may be used for long-lasting esthetic restorations.
Product Information
G-ænial™ Universal Injectable is a universal restorative composite displaying exceptional strength & resistance for long-lasting aesthetic restorations. 
G-ænial™ Universal Injectable's homogeneously dispersed ultra-fine particle formula provides high flexural strength and wear-resistance for a durable and long-lasting restoration that retains its gloss for many years after placement.
It is highly shapeable and easy to manipulate yet provides superb adaptation to the cavity for reduced occurrence of porosities and air bubbles, which can potentially compromise marginal integrity.
G-ænial™ Universal Injectable stays where you put it, will not stick to your instrument and provides an easy solution for all Class I-V cavities.
Why choose G-ænial™ Universal Injectable?
Exceptional strength & wear resistance thanks to the combination of ultra-fine Barium fillers & GC's Full-coverage Silane Coating (FSC) technology

Universal application for all cavity classes, suitable for any cavity class without size limitation

Strong enough without the need to cover with a conventional composite

Unique thixotropic viscosity, optimal for free-hand build-up of cusps

Syringe design featuring easy extrusion & no uncontrolled flow-out

Optimal viscosity to easily separate the material from the tip

Features dispensing tips with a long bendable needle for unparalleled access to difficult posterior cavities

Shorter finishing steps – 3 steps in 1-; shape and contour as you inject

Faster placement time with no waste

Wide range of shades in three levels of translucency

Unsurpassed polishability with beautiful esthetics, excellent gloss retention

Suitable for any cavity class without size limitation
G-aenial Universal Injectable - High-strength restorative composite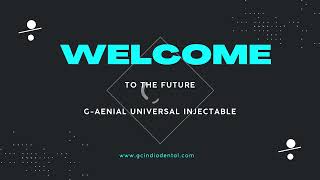 G-aenial Universal Injectable - High-strength restorative composite
SKU Information
| | |
| --- | --- |
| Item Number | Description |
| 0138F119-0010 | G-AENIAL UNIVERSAL INJECTABLE 1.7G (A1/A2/A3) |
| 0138F119-0020 | G-AENIAL UNIVERSAL INJECTABLE 1.7G (A1/A2/A3) |
| 0138F119-0030 | G-AENIAL UNIVERSAL INJECTABLE 1.7G (A1/A2/A3) |