Product Information
Experience the next generation of hand-mixed, self-adhesive posterior restorative featuring GC Advanced Glass Hybrid technology.
Advanced Glass hybrid technology is the combination of two types of Fluoro-Almino-Silicate(FAS) glass and also two types of polyacrylic acid.
Thanks to smart particle size distribution, GC Gold Label HYBRID gets higher mechanical strength.
Finer size of FAS Glass particle decreases collision against visible light waves. The more light is passing through the restorative, it causes the restorative more translucent.
GC Gold Label HYBRID consists of the glass which reacts with polyacrylic acid, helping the restorative matrix release high amount of fluoride.
GC Gold Label HYBRID consists of more acid resistance FAS glass and a higher molecular weight polyacrylic acid. These two components strengthen the restorative matrix and gives higher acid resistance.
Why choose GC Gold Label HYBRID?
High mechanical strength and durability
High aesthetics
More translucency and suitable to color of around tooth tissue
High acid resistance ability
High moisture tolerance
Efficient fluoride releasing
Small Cavity Restoration with GC Gold Label HYBRID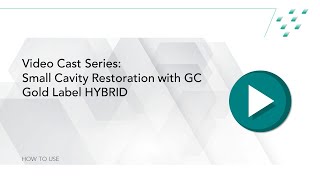 Small Cavity Restoration with GC Gold Label HYBRID
SKU Information
| | |
| --- | --- |
| Item Number | Description |
| 0139F369-0010 | Shade A2 1-1 PKG - Contains: one (15g) powder and one (8g / 6.4 mL) bottle of liquid |
| 0139F370-0010 | Shade A3 1-1 PKG - Contains: one (15g) powder and one (8g / 6.4 mL) bottle of liquid |