Two-Component Light-Cured Universal Adhesive
G2-BOND Universal is leading the way to a new standard in adhesive dentistry with GC's proprietary Dual H-Technology, giving clinicians what they would expect from existing self-etch and etch-and-rinse gold standard products.
Product Information
The Dual H-Technology of G2-BOND Universal enables the advanced optimisation of bonding both to tooth and composite by the smooth transition from hydrophilic to hydrophobic characteristics. The remarkably hydrophobic bond layer thanks to the HEMA-free composition lowers the occurrence of water sorption which decreases the risk of degradation and leads to superior durability. [1-3]
G2-BOND Universal offers unmatched marginal quality with its strong bond layer that avoids gap formation and microleakage which leads to remarkable sealing effectiveness with virtually no post-op sensitivity. [1-3]
G2-BOND Universal offers an all-round performance of a HEMA-free unique composition of functional monomer (4-MET, MDP, MDTP) for durable adhesion to different substrates. [1-3]
G2-BOND Universal offers controlled dispensing with its modern, intelligent, and ergonomic cover design by eliminating waste and therefore saving cost.
PRODUCTS ON THIS WEBSITE ARE NOT AVAILABLE FOR PURCHASE BY THE GENERAL PUBLIC. ALWAYS READ THE LABEL AND FOLLOW THE DIRECTIONS FOR USE.
Why choose G2-BOND Universal?
Your choice of preferred etching mode
 
​G2-BOND Universal provides reliable results in self-etch and etch-and-rinse modes, allowing a wide range of indications to be covered with only one system with virtually no post-operative sensitivity.
 
The optimal thickness of G2-BOND Universal may act as a shock-absorbing layer to avoid gap formation and debonding, especially with high shrinkage and bulk-fill composites. [1]
 
Superior durability and bond strength [2]
 
Thanks to the Dual-H technology, the Primer ensures the quality of the adhesion and the Bond enhances the durability of the bonding layer.
 
Unmatched marginal quality [3]
 
With a HEMA-free composition, the stability of the margin is improved, allowing margins in anterior restorations to remain invisible over time.
 
Superior dispensing and low technique sensitivity
 
A precise dispensing is ensured through ergonomic cover design. Dropping precise amounts, prevent dripping, eliminate waste, and leaving clean bottles after use. The viscosity of the bond makes it particularly nice and easy to apply, limiting the risk of pooling of the bonding layer.
 
The performance of G2-BOND Universal makes it an ideal product to use in a multiple range of indications: direct restorations, Immediate Dentin Sealing (IDS), repair of indirect restorations.
Indications
Direct restorations
Intra-oral repair
Immediate Dentin Sealing (IDS)
Luting of indirect restorations (with G-CEM LinkForce™)
Post luting & core build-up (with GRADIA™ CORE & G-Premio BOND DCA)
[1] GC R&D, Japan, 2020, Data on File.
[2] Yamanaka A et al. (2020), Improvement of dentin bonding effectiveness using the next generation 2-step system with a newly developed hydrophobic bonding agent, Adhes Dent, 38(3): 112.
[3] Tichy A et al. (2020), A comprehensive evaluation of dentin bonding durability of a novel two-step self-etch adhesive, Adhes Dent, 38(3): 109.
G2-BOND Universal Contents
Dental Advisor Awards G2-BOND Universal 91% Rating!
G2-BOND Universal - The new standard of 2-bottle Universal Bonding
G2-BOND Universal Contents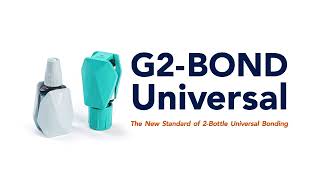 Dental Advisor Awards G2-BOND Universal 91% Rating!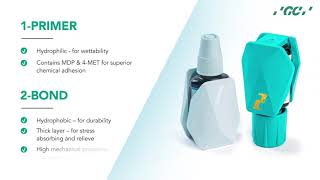 G2-BOND Universal - The new standard of 2-bottle Universal Bonding