Type IV Synthetic Die & Model Stone
One of the world's most popular Type IV Dental Die Stone with superior quality.
Product Information
GC FUJIROCK® EP Classic Line, the "classic" stones, ideal for all kinds of prosthetics. They combine high precision, outstanding edge hardness and high-pressure stability. GC FUJIROCK® EP Classic Line is highly fluid yet still thixotropic for excellent handling properties and easy pouring without air bubbles. A real performant all-round stone. It is available in 2 colors: Golden Brown and Topaz Beige.
GC FUJIROCK® EP Premium Line is the special version of GC FUJIROCK® EP developed for high performance techniques such as extended implant works and complex full ceramic indications. The improved powder composition and refined colour setting make it the ideal stone for a variety of applications. For high demanding cases the model, should perform in every stage of the workflow: wax modelling, gingiva masks, digital scanning and finishing & polishing. The stone model is the fundament of your quality. Last but not least, it is the business card of your laboratory when you present your high esthetical jobs to the patient. It is available in 4 colors: Inca Brown, Pastel Yellow, Polar White and Titanium Grey.
Why choose GC FUJIROCK® EP?
Extremely hard stone - greater wear resistance

High transverse and compressive strengths - reduces breakage and chipping

Ideal thixotropicity - smoother pouring formula facilitates detail reproduction without dimensional change

Low "powder-water" ratio - uses less water for outstanding strength and excellent physical properties

Formulated for high accuracy and precise fit - fewer remakes, higher quality and reliable
GC FujiROCK EP with Olivier Tric (Video)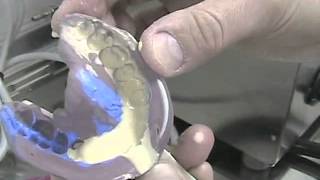 GC FujiROCK EP with Olivier Tric (Video)
SKU Information
Classic Line
Item Number
Description
890222
Golden Brown (5 kg)
890226
Golden Brown (12 kg)
890225
Topaz Beige (5 kg)
Premium Line (4 kg)
Item Number
Description
890367
Inca Brown
890364
Pastel Yellow
890366
Polar White
890368
Titanium Grey
Premium Line (11 kg)
Item Number
Description
890365
Pastel Yellow