Single-Component Light-Cured Adhesive
A universal, 8th generation bonding agent that is compatible with total-etch, self-etch and selective etch techniques providing excellent versatility.
Product Information
G-Premio BOND™ is perfectly adapted to all direct restorations and can also be used to repair indirect restorations without the use of primer. G-Premio BOND™ can also be used in combination with a silane when repairing glass or hybrid ceramic and is also ideal for hypersensitivity. It is available in a bottle (5 mL) with a new silicone cover to enable more precise drop dispensing and a 50 unit dose pack (0.1 mL each). When using G-ænial Sculpt®, G-ænial™ Universal Flo and G-Premio BOND™ together, a clinician will have the consistent and predictable materials that allow the individual to create highly esthetic and wear-resistant direct restorations.
Why choose G-Premio BOND™?
Available in updated-design bottle or unit dose delivery

Low pH (1.5) provides effective and consistent bonding

Use in all total-etch, self-etch and selective etch bonding techniques

Low film thickness (3 microns) enables use with resin cements to bond indirect restorations

Universal (8th generation) bonding agent for use in direct and indirect procedures and treatment of hypersensitivity
Class II Sandwich Technique with EQUIA Forte, G-Premio BOND and G-aenial Sculpt
G-aenial Family & G-Premio BOND: A Winning Direct Restorative Combination for Esthetic Results
G-Premio BOND: DenTrek Product Detail
Dental Advisor two-year clinical performance: 98% rating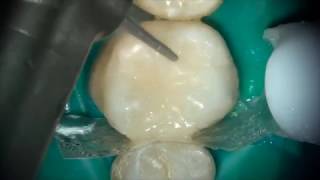 Class II Sandwich Technique with EQUIA Forte, G-Premio BOND and G-aenial Sculpt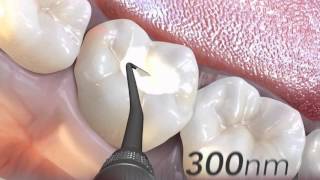 G-aenial Family & G-Premio BOND: A Winning Direct Restorative Combination for Esthetic Results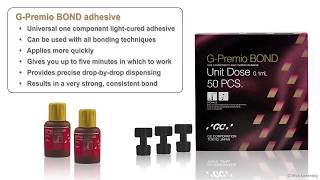 G-Premio BOND: DenTrek Product Detail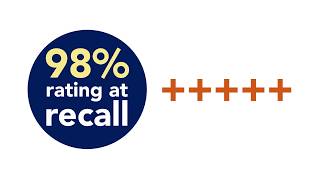 Dental Advisor two-year clinical performance: 98% rating
SKU Information
| | |
| --- | --- |
| Item Number | Description |
| 012696 | Bottle Refill - Contains: One bottle refill (5 mL). |
| 012691 | Kit - Contains: One bottle (5 mL), 50 disposable applicators and 20 disposable dispensing dishes. |
| 009276 | Unit Dose - Contains: Fifty unit doses (0.1 mL) and 50 disposable applicators (fine). |
| 009552 | Dual Cure Activator (DCA) - Contains: One bottle refill (3 mL). |