Two-Component Light-Cured Adhesive
G2-BOND Universal is leading the way to a new standard in adhesive dentistry with GC's proprietary Dual H-Technology, giving clinicians what they would expect from existing self-etch and etch-and-rinse gold standard products.
Product Information
The Dual H-Technology of G2-BOND Universal enables the advanced optimization of bonding both to tooth and composite by the smooth transition from hydrophilic to hydrophobic characteristics. The hydrophobic bond layer with HEMA-free composition lowers the occurrence of water sorption which decreases the risk of degradation and leads to excellent durability. 
G2-BOND Universal offers outstanding marginal quality with its strong bond layer that avoid gap formation and microleakage which leads to remarkable sealing effectiveness with virtually no post-op sensitivity. 
G2-BOND Universal offers an all-around performance of a HEMA-free unique composition of functional monomers (4-MET, MDP, MDTP) for durable adhesion to a wide range of substrates. 
G2-BOND Universal offers controlled dispensing with its modern, intelligent and ergonomic bottle cover design by eliminating waste and therefore saving cost. 
Why choose G2-BOND Universal?
G2-BOND Universal offers a new 2-bottle bonding standard in all etching modes that leads to 
Long-lasting restorations 

Virtually no post-operative sensitivity and outstanding marginal quality 

Superb handling and dispensing
Dental Advisor Awards G2-BOND Universal 91% Rating!
G2-BOND Universal - The new standard of 2-bottle Universal Bonding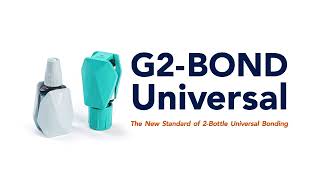 Dental Advisor Awards G2-BOND Universal 91% Rating!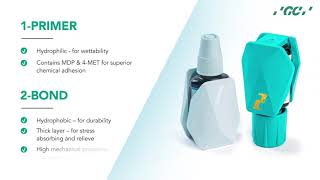 G2-BOND Universal - The new standard of 2-bottle Universal Bonding
SKU Information
| | |
| --- | --- |
| Item Number | Description |
| 013646 | G2-BOND Universal Bottle Kit - Contains: 1 x G2-BOND Universal 1-PRIMER Bottle 5mL, 1 x G2-BOND Universal 2-BOND Bottle 5mL, 1 x G2-BOND Universal 1-PRIMER Bottle cover, 1 x G2-BOND Universal 2-BOND Bottle cover, 20 x dispensing dishes, 50 x applicators, 1 x Technique Guide. |
| 013651 | 1-PRIMER Refill - Contains: Refill 5mL. |
| 013652 | 2-BOND Refill - Contains: Refill 5mL. |