One Step Toothpaste with RECALDENT® Technology for Kids
MI Paste® products are the essential solutions which release calcium, phosphate, and fluoride. They are the first of their kind – containing naturally derived milk protein and fluoride for safe and effective treatment of white spot lesions and non-cavitated tooth demineralization.
Product Information
MI Paste® ONE Kids is the newest member of the MI Paste® family is a two-in-one application (toothpaste and MI Paste Plus®) containing RECALDENT® (CPP-ACP) and fluoride, in 3 delicious flavors: bubblegum, cotton candy and blue raspberry.
When fluoride meets RECALDENT® (CPP-ACP), the peptide preferentially combines with, and stabilizes, fluoride to create the ideal source for building fluorapatite. Using bio-available calcium and phosphate, the full potential of fluoride to help protect and repair teeth can be achieved.
RECALDENT® (CPP-ACP) is derived from milk casein. Do not use on patients with a milk protein or hydroxybenzoates allergy. In case of allergic reaction, stop use, rinse mouth with water, and seek medical advice.
Treatment and Cleaning in One Single Step

Anti-cavity and rebuilds enamel

Unique Features Enabled by RECALDENT® (CPP-ACP)

Delivering bio-available minerals and penetrates biofilms and enamel

Binds to tooth surfaces to localize bio-available minerals

Neutralizing acid challenge and works as emulsifier and chelating agent to stain for effective stain removal

Children Will Love It

Child friendly flavors/packaging

Low/mild abrasive

Mild foaming (No-SLS)
MI Paste ONE Kids GC America Award Video 20221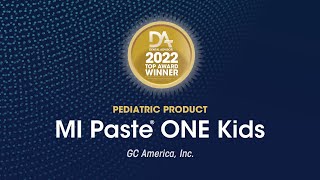 MI Paste ONE Kids GC America Award Video 20221
SKU Information
| | |
| --- | --- |
| Item Number | Description |
| 437150 | Bubblegum - Contains: Ten tubes (40 g; 35 mL each). |
| 437140 | Cotton Candy - Contains: Ten tubes (40 g; 35 mL each). |
| 437130 | Blue Raspberry - Contains: Ten tubes (40 g; 35 mL each). |
| 437120 | Assorted - Contains: Ten tubes (40 g; 35 mL each) - 4 Bubblegum, 3 Cotton Candy and 3 Blue Raspberry). |
Downloads
Sell Sheets
Safety Data Sheets
Certification